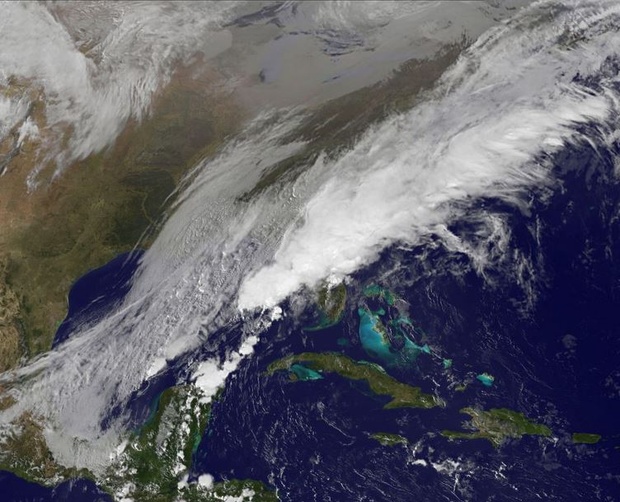 A swollen storm with lousy timing is lurching toward the U.S. East Coast this Thanksgiving, and the implications for travel are worrying. With
1 to 3 inches of snow predicted for the I-95 corridor
by Wednesday night (and up to 6 inches farther west), it's easy to gnaw fingernails over a possible commuter ant-crawl, littered with stalls, wrecks, airline delays, rage, and all the other fun ingredients of a mass-migration kerfuffle.
The National Weather Service office in Philadelphia
says to
"expect flight delays" and trouble on the roads, and is advising people finish their journeys "before 7 AM Wednesday morning." (Meaning if you haven't left yet, better get cracking now). "Conditions will be quickly deteriorating Wednesday evening,"
adds
the agency's bureau in Gray, Maine. "We anticipate travel will be very difficult around that time." New York cuts right to the point
with this
: "THE SNOWFALL WILL SIGNIFICANTLY IMPACT HOLIDAY TRAVEL... MAKING DRIVING DANGEROUS AT TIMES."
Here's a forecast of accumulations from the NWS Weather Prediction Center, with pink-and-red the areas having a high probability of getting two-or-more inches of snow from this storm: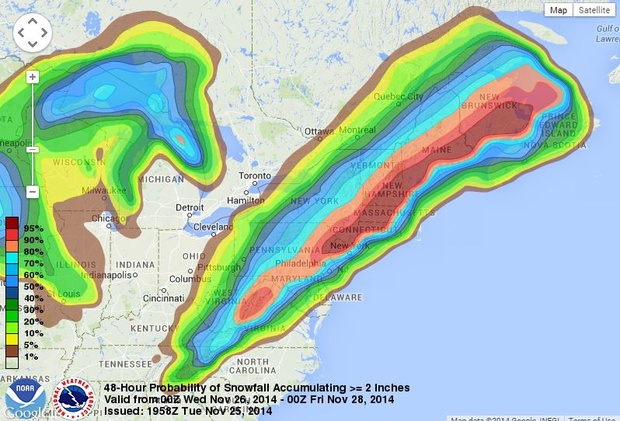 How could this nasty weather affect
your
holiday commute? To answer that question, you might want to check out an experimental travel tool the NWS is
now promoting
. The "
Enhanced Data Display v4.3.2
" allows you to plot a road trip from Point A to B while giving the expected conditions at intervals along the way. For instance, here's the route a driver might take to New York departing from D.C. at 2 p.m. Wednesday:
Hover the mouse over the weather icons inside the tool itself and a window pops up with worst case-scenario forecasts and warnings. By the time the motorist gets to Baltimore, there could be 2 inches of snow on the ground, wind gusts nearing 20 mph, and a visibility of 2 miles. Arriving on New York's doorstep in Union City, New Jersey, the motorist might find conditions have worsened to 3.3 inches of snow, 29 mph gusts, and a
Winter Weather Advisory
in effect.
Being a prototype, the tool isn't perfect: Its "forecast valid" data are, for now, shown in
Coordinated Universal
Time (though the weather predictions are displayed correctly in local time). And its estimations of arrival times are wildly optimistic for a snow day—there's no way in icy hell that drivers will get from D.C. to New York in under four hours Wednesday afternoon. Still, as a means to glimpse the suffering this storm could sow across the region, it makes a pretty nifty crystal ball.